OCTOBER 2015 CATALOGUE RELEASES - Get your copies today!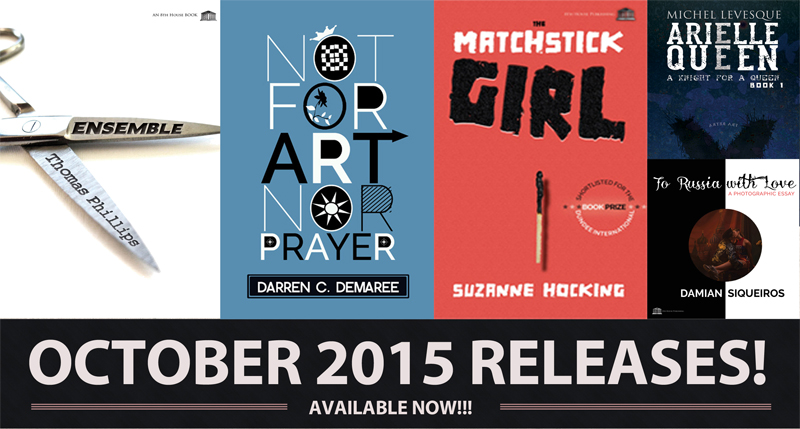 ENSEMBLE by Thomas Phillips


4.7 x 7.5 | 148 pages | ISBN 978-1-926716-29-9 (pbk.) | $15.88

NOT FOR ART NOR PRAYER by Darren C. Demaree


5. 5 x 8.5 | 90 pages | ISBN 978-1-926716-35-0 (pbk.) | $15.88

THE MATCHSTICK GIRL by Suzanne Hocking


5 x 8 | 238 pages | ISBN 978-1-926716-34-3 (pbk.) | $15.88

Set in Montreal, Ensemble takes us through the throes of existential crises as lives and marriages are overturned by a man's restless yearning.

A philosopher is suddenly forced to face the questions he lectures on when they materialize out of the theoretical and into the practical after he falls for a student in his class. Meanwhile his wife, an accomplished musician is left to deal with the disintegration of their marriage and the new silence that descends upon her life as she dissects her husband's inner workings and confronts the object of his desire. Told in clinical honesty, Ensemble deconstructs love and relationships in the 21st century.

PRAISE FOR "NOT FOR ART NOR PRAYER"

"...artful and prayerful... ...these generously attentive and marvelously whimsical poems repeatedly resist sleight-of-hand poetic transubstantiation, while slyly acknowledging the inevitably transformative nature of language."
—Lee Ann Roripaugh, Author of Dandarians

"...moves deftly through coming-of-age, marriage, and young fatherhood..."
-Maggie Smith, Author of The Well Speaks of Its Own Poison

"...a crash course in badass alchemy, in concision and razor wire... ...these poems roar through their quiet deftness on the page. Congratulations for picking up this book, you're in for quite a ride."
- Sam Sax, author of sad boy / detective

YELENA walks the line between cold and poverty. Then for a brief moment fortune shines on her and Yelena catches a glimpse of hopes and unknown joys that she never imagined could have been within her reach. But as soon as it appears, it is taken from her. Obsession takes hold, and as the years pass, she grows to want far more than what the life of a young girl of the streets can offer. Through luck and deceit, she lands a place at the esteemed Smolny Institute for Noble Girls where the young women of the Russian court are taught mathematics, literature and science and where Yelena hopes to light a fire under Russian society.

THE MATCHSTICK GIRL brings LGBT undercurrents to nineteenth-century Russia, as our young protagonist struggles with class differences, schoolgirl relationships and her search for self-empowerment.