Craig Wells author of The Blasphemous Bible interviewed tonight...
Craig Wells, author of The Blasphemous Bible is interviewed tonight on Your Athiest Pastor. You can listen to it live tonight, June 19, 2018 between 9-10PM EST on their podcast. Tune in here.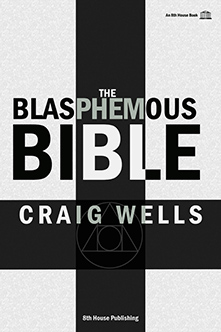 THE BLASPHEMOUS BIBLE by Craig Wells
"The entire King James bible written irreverently and satirically."
Rewritten in their entirety, these blasphemous new and old testaments are an attempt at a reversal of morals--a dialectical approach to the truth in which the opposite is mirrored against the established with the goal of producing a new transcendent truth uniting the two contradictory views.
496 pages | 6 x 9 | ISBN 978-1-926716-49-7 | $29.99 | Info Sheet:; pdf, jpg | Preview the Book