8th House Publishing is proud to announce the advance sales launch of Craig Wells' "The Blasphemous Bible".
Due to high demand, we are allowing our customers to reserve copies before the official launch in April. Rewritten in their entirety, these blasphemous new and old testaments are an attempt at a reversal of morals--a dialectical approach to the truth in which the opposite is mirrored against the established with the goal of producing a new transcendent truth uniting the two contradictory views.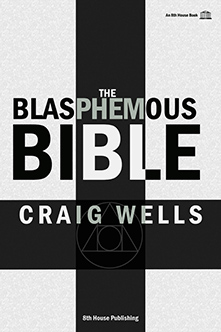 "The entire King James bible written irreverently and satirically.""
". . . a means of challenging zealots to read their own holy books and possibly force them to consider the harder questions and contradictions contained therein, the author decided to rewrite the Bible. Years of indefatigable work later, The Blasphemous Bible was created. All the many stories, verses, and 'facts' contained in the Bible are here rewritten with no apology for the obvious wickedness, cruelties, atrocities, and overall unbelievable fallacies it may be said to chronicle."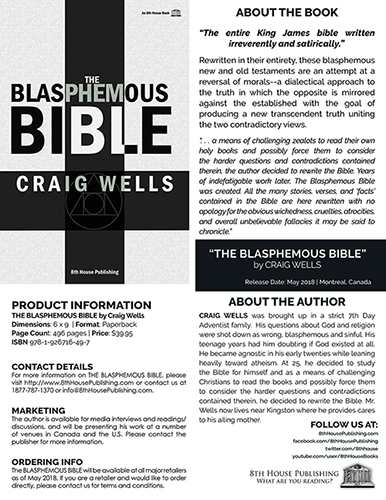 The book will be officially released in April and is now available for pre-ordering.
Find out more on the book or about the author. Watch the promo video.