8th House Publishing presents a new series of collaborations.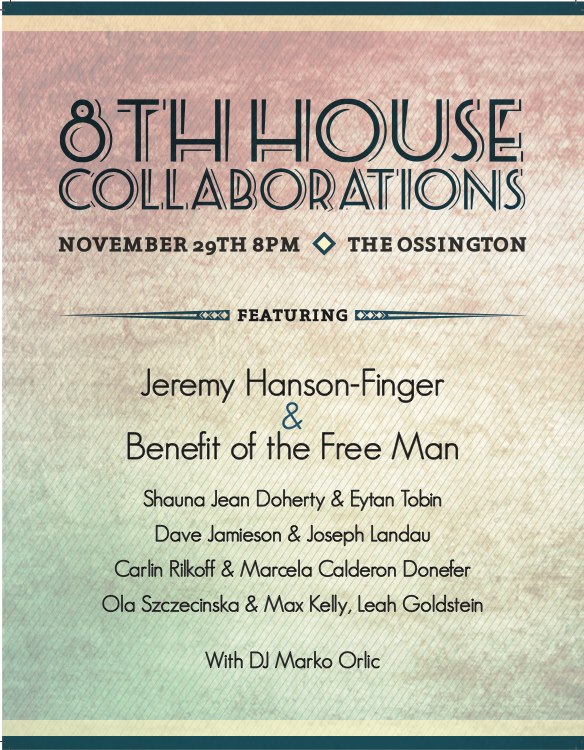 https://www.facebook.com/events/295017003936131/
Join us for readings by emerging authors interpreted by projectionists, musicians and moving illustrations.
Readings begin at 9:00.
Featuring the work of:
9:00: Ola Szczecinska - Max Kelly, Leah Goldstein
9:30: Carlin Rilkoff - Marcela Calderon Donefer
10:00: Eytan Tobin - Shauna Jean Doherty
10:15: Dave Jamieson - Joseph Landau
11:00: Jeremy Hanson-Finger - Benefit of the Free Man - Ian Turner
11:30: DJ Marko Orlic
More about our artists:
JEREMY HANSON-FINGER // BENEFIT of the FREE MAN // IAN TURNER:
Dragnet editor and co-founder Jeremy Hanson-Finger's quirky and poignantly relatable short story is brought to life by the lyrical chamber-folk music of Benefit of the Free Man. Ian Turner's playful illustrations set the scene.
You will not want to miss this collaboration between these known and appreciated mainstays of the Toronto arts scene.
http://hansonfinger.tumblr.com/
http://thebenefitofthefreeman.bandcamp.com/
http://ianturner.ca/
Shauna Jean Doherty // Eytan Tobin:
Delivering writing that is comparable to Bret Easton Ellis's raw, drug infused realism, Shauna gives vivid perspectives into the lives of young adults in Toronto's downtown and Kensington Market. She joins experimental film developer and musician Eytan Tobin to voice her writing on screen.
http://elektrotank.bandcamp.com/
Dave Jamieson // Joseph Landau:
Dave Jamieson writes the echoes and wanderings of Chicago's South side steeped in the Jazz of the 1920's. He is joined by a member of Grids and Formalists, the novalingual composer and Classical guitarist, Joseph Landau.
http://formalists.bandcamp.com/album/lovers-on-a-bus
Carlin Rilkoff // Marcela Calderon Donefer:
Life on the lakes of Northern Ontario is made all at once nostalgic and timeless through Rilkoff's words. Marcela's evocative images brings shades of magic realism to the author's Muskoka landscapes and tales of adolescence.
http://mmmbrainjuice.tumblr.com/
Ola Szczecinska // Max Kelly, Leah Goldstein: Ola's writing remembers a time that used to be and it's conflict with the present. She renders Warsaw in a "nostalgia, now" touching on the politics, identities and globalization that shaped its history. Be transported to this time as multidisciplinary artists Max and Leah bring out the nuances and subtleties of Ola's work through puppetry, dance and projection art.
FEATURING: DJ Marko Orlic
Stay to dance, drink and mingle until the bar closes with DJ Marko Orlic. He will make your booty shake and your heart break with his the depth of his musical knowledge.
http://www.blogto.com/music/2012/08/get_to_know_a_dj_marko_orlic/
http://recordinglivefromsomewhere.com/
SPECIAL THANKS:
Sasha Starikova for her work on our poster