"...Their stories weave together like lines of traffic, or convoys on ruble-strewn streets moving too fast for their safety. The reader feels the roller-coaster hurtle of the narrators in their stories. Rathwell writes an engaging and convincing prose set in the tumultuous world around us."
Read more of the review online here.
—Joe Blades is the award-winning producer–host of Ashes, Paper, & Beans broadcast weekly, since 1995, on CHSR 97.9 FM in Fredericton, NB. He is an artist, educator, and writer with seven published poetry collections—three of which have also been translated and published in Serbia and Bosnia Herzegovina.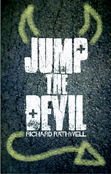 Jump the Devil by Richard Rathwell
Rathwell's writing is "a fistful of sentences written with the subtlety of a geisha and the terse certainty of stainless steel." - John Olson, Author
"There must have been a bad bite. Something had gestated. He wasn't imagining it. There were wet, frozen pebbles tumbling in his veins. There was a sugary sense of euphoria, a smell of orange blossoms, of piss, of diesel."
5 x 8. 146 pages, ISBN 978-1-926716-11-4. $18.88