Corner Club Quarterly features "Not for Art nor Prayer"
Mariah E. Wilson reviews Darren C. Demaree's "Not for Art nor Prayer" in the latest edition of The Corner Club Quarterly.Read the full review here.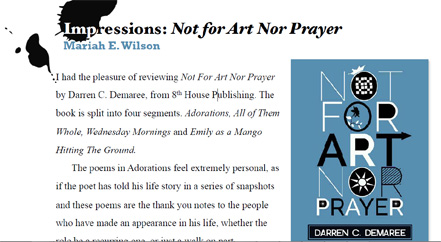 "Not for Art Nor Prayer is a must for your poetry collection, but it's not one of those books that will sit there on your shelf looking pretty. It will stay close by, always at reach, and the words will stay close to your heart."
-Mariah E. Wilson,, The Corner Club Quarterly, Volume 4 Issue 18 Autumn 2015