CROSSING TO TADOUSSAC by Frederick E. Bryson
Crossing to Tadoussac is a novel about a woman coming of age in Quebec during the years of the Quiet Revolution. With the political turmoil in the province mirroring the psychological conflict in her person, our heroine finds herself searching for the balance of freedom and liberation in her own life and person, while witnessing this same internal struggle reproduced in the conflict of her people coming to maturity and seizing their place in the world. A sensitive and realistic portrait, "Crossing to Tadoussac" evokes the experience of being a Quebecker in the reader, awakening the historical and spiritual struggles that have formed the province and its people.
View the Release Announcement here! Watch the Promo Video here. WATCH THE AUTHOR READ EXCERPTS HERE.
---
Praise for "Crossing to Tadoussac"
"While America debated the fate of Southeast Asia, revolution was brewing north of its border. Frederick Bryson's novel captures a defining moment in Canadian history when independence becomes a tangible dream for Quebec's francophone majority. The novel's Quebecoise protagonist offers a window on the giddy hope, the steely determination and the ambivalence of a new national movement reaching for power and brought to the forefront of history by the October Crisis of 1970."
"Never before had the prospect of nationhood for Quebec's francophone majority been more tangible than in the final half of the 20th century. Frederick Bryson captures the intensity and confusion of the 1970 'October Crisis' when a movement emboldened by the repudiation of traditional values and fueled by youthful energy must choose between non-violence and terrorism. Bryson's narrator, an American journalist in search of the story of the FLQ kidnappings of James Cross and Pierre Laporte, meets Yvonne Boulanger, former lover of revolutionary-turned-politician Jean-Guy Tessier. Yvonne becomes a proxy for all Quebecois forced to choose between the insufferable status quo and an uncertain, potentially catastrophic future. Her ambivalence grows as she realizes that feminism takes a back seat in a movement dominated by men obsessed with power."
- Caroline Kehne, Lake Champlain Weekly
---
Any number of authors might have written the story of Yvonne Boulanger, a young woman caught up in the revolutionary and secessionist fervor of Quebec. None, however, could have done so with the beautiful storytelling mastery of language as Frederick E. Bryson has done in Crossing to Tadoussac. From the opening paragraph, readers are immersed in the story, made silent but firsthand witnesses to what transpired during those tumultous years.
- Paul M. Howey, Editor, The Laurel of Asheville
---
I've known Frederick Bryson as far back as my mind can explore memory's darkening corridors. We grew up together in the mountain fastnesses of North Carolina's Great Smokies in a town, Bryson City, named for one of his ancestors. Once those halcyon days of youth were gone, we went our separate ways, but over the years I've been privileged to watch him grow up in another way--as a writer. This began with the occasional intriguing contribution to the local weekly newspaper, grew by leaps and bounds with the publication of two impressive books skillfully blending local history with fiction, and now Bryson has reached an even higher level with this work. The threads of Quebec's past which contribute to the history of Canada are bright, sometimes bloody, often filled with passion, and always beguiling. Bryson captures these verities of Quebec life, past and present, in a delightful and discerning fashion. This is his finest book yet, and given the fact that he has gone from strength to strength as a writer, that says a great deal.
- Jim Casada, Author
---
From the Laurel of Asheville: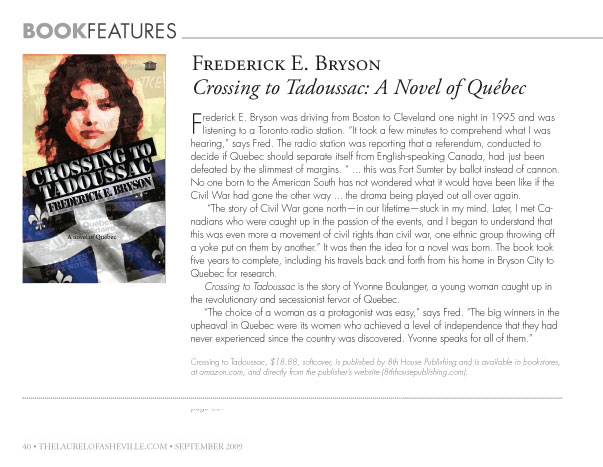 Courtesy of "The Laurel of Asheville", © The Laurel of Asheville, 2009