Claudia Serea's
"In the Old Woman's Dream"
at Uut Poetry
Read Claudia Serea's "In the Old Woman's Dream", a prose poem at Uut Poetry!
Indiana Voice Journal review of "Not for Art nor Prayer" now available.
Jennifer Criss of the Indiana Voice reviews Darren C. Demaree's latest collection "Not for Art nor Prayer." Read the full review.
"It's as real as poetry gets."
- Jennifer Criss, Indiana Voice Journal
The Unbroken Journal reviews "Not for Art nor Prayer"
R.L. Black reviews Darren C. Demaree's "Not for Art nor Prayer" in the latest edition of The Corner Club Quarterly. Read the full review here.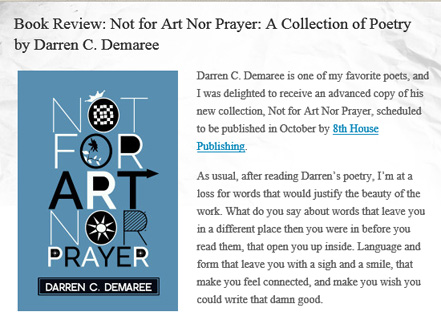 "I'll give this collection five stars. Though I usually gravitate toward short poems, Mr.
Demaree has a way of writing a poem that makes the reader need to read it again and
again. And even in his longer poems, he still manages to somehow be a man of few words.
I'll definitely be reading this collection again."
- R.L. Black, The Unbroken Journal
OCTOBER 2015 CATALOGUE RELEASES - Get your copies today!
ENSEMBLE by Thomas Phillips


4.7 x 7.5 | 148 pages | ISBN 978-1-926716-29-9 (pbk.) | $15.88

NOT FOR ART NOR PRAYER by Darren C. Demaree


5. 5 x 8.5 | 90 pages | ISBN 978-1-926716-35-0 (pbk.) | $15.88

THE MATCHSTICK GIRL by Suzanne Hocking


5 x 8 | 238 pages | ISBN 978-1-926716-34-3 (pbk.) | $15.88

Set in Montreal, Ensemble takes us through the throes of existential crises as lives and marriages are overturned by a man's restless yearning.

A philosopher is suddenly forced to face the questions he lectures on when they materialize out of the theoretical and into the practical after he falls for a student in his class. Meanwhile his wife, an accomplished musician is left to deal with the disintegration of their marriage and the new silence that descends upon her life as she dissects her husband's inner workings and confronts the object of his desire. Told in clinical honesty, Ensemble deconstructs love and relationships in the 21st century.

PRAISE FOR "NOT FOR ART NOR PRAYER"

"...artful and prayerful... ...these generously attentive and marvelously whimsical poems repeatedly resist sleight-of-hand poetic transubstantiation, while slyly acknowledging the inevitably transformative nature of language."
—Lee Ann Roripaugh, Author of Dandarians

"...moves deftly through coming-of-age, marriage, and young fatherhood..."
-Maggie Smith, Author of The Well Speaks of Its Own Poison

"...a crash course in badass alchemy, in concision and razor wire... ...these poems roar through their quiet deftness on the page. Congratulations for picking up this book, you're in for quite a ride."
- Sam Sax, author of sad boy / detective

YELENA walks the line between cold and poverty. Then for a brief moment fortune shines on her and Yelena catches a glimpse of hopes and unknown joys that she never imagined could have been within her reach. But as soon as it appears, it is taken from her. Obsession takes hold, and as the years pass, she grows to want far more than what the life of a young girl of the streets can offer. Through luck and deceit, she lands a place at the esteemed Smolny Institute for Noble Girls where the young women of the Russian court are taught mathematics, literature and science and where Yelena hopes to light a fire under Russian society.

THE MATCHSTICK GIRL brings LGBT undercurrents to nineteenth-century Russia, as our young protagonist struggles with class differences, schoolgirl relationships and her search for self-empowerment.
Rolli Joins The Walrus:
Writer/Cartoonist to Produce Fifty-Two Short Stories and Cartoons in One Year for TheWalrus.ca
TORONTO, ON / REGINA, SK – Canadian writer and cartoonist Rolli is partnering with The Walrus for an ambitious creative venture. Over the next twelve months, Rolli will write a weekly short story—and draw a weekly cartoon—for the web version of The Walrus, one of Canada's most revered magazines.
"When I was approached by The Walrus to do a regular creative column, I was jazzed. It's going to take every litre of my creativity (and coffee) but it's a workout and a challenge I'm looking forward to. An artist isn't given carte blanche very often. I'm grateful for the opportunity." - Rolli
The prolific Regina writer's most recent story collection, I Am Currently Working on a Novel, was longlisted for the 2015 Frank O'Connor International Short Story Award and shortlisted for the High Plains Book Award. His short fiction has appeared in The Saturday Evening Post and Geist and has received numerous honours. Rolli is the recipient of the 2007 John Kenneth Galbraith Literary Award and was one of two Canadian winners of the 2008/2009 Commonwealth Short Story Prize.
Though a "writer first and cartoonist second," Rolli's cartoons have appeared in many of the world's top outlets, including The Wall Street Journal, Reader's Digest and The Harvard Business Review.
Rolli's first story for The Walrus, "The Dream Museum" is now online:http://thewalrus.ca/the-dream-museum/
More information about Rolli can be found at rollistuff.com. Visit The Walrus at thewalrus.ca.
ROLLI
Claudia Serea - Fall reading schedule...
Follow Claudia Serea on her reading tour this fall.
SAVE THE DATES:
-September 26, Sidewalk Cafe, NY--100,000 Poets for Change
-October 7, Williams Center, Rutherford, NJ--RWB#8 launch
-October 9, Pete's Candy Store, Brooklyn--with Martin Woodside
-October 30, Gainville Cafe, Rutherford, NJ--book launch
-November 10, KGB Bar, NY-"Poetry of Witness" movie screening
-November 29, Great Weather for Media series, Parkside Lounge, NY
A Behind the Scenes Look at "To Russia with Love"
A new video courtesy of Guillermo Castellanos gives us a 'behind the scenes' look at the artwork behind the "To Russia with Love" project. Watch it here.
To Russia With Love Project 2015
Stay tuned for Damian Siqueiros's To Russia With Love Project 2015 with events coming in Toronto, Montreal and New York City.
Program To Russia with Love Project 2015 so far:
TORONTO
Book Launch: Glad Day Bookshop June 19th from 4 to 6 pm (followed by a visit to the Akasha Art Projects exhibit.)
Nuit Rose Solo exhibit: Akasha Art Projects June 20th from 7 pm to 3 am.
MONTREAL
Expo Galerie D & Pop Up Art Montreal July 3 to 5. Official vernissage July 4th, 5 pM to 10 PM..
With a guest appearance by Russian journalist, writer activist, Ivan Savvine.
Find out more about the book:
Rolli Shortlisted for the 2015 High Plains Award
Rolli's short story collection I Am Currently Working On a Novel is nominated for the 2015 High Plains Award..
The High Plains Books Awards were established to recognize regional authors and/or literary works which examine and reflect life on the High Plains including the states of Montana, North Dakota, South Dakota, Wyoming, Nebraska, Colorado, and Kansas, and the Canadian provinces of Alberta, Manitoba, and Saskatchewan.
A full list of finalists can be found on the official website.

"To Russia with Love" by Damian Siqueiros now available!
"To Russia with Love" by Damian Siqueiros now available! Get your copy here.
Vallum Magazine reviews Mavor's Bones
Vallum Magazine's Danny Jacobs reviews Rolli's "Mavor's Bones". Get the full review at Vallum Magazine.
Authors for Indies Day at La Maison Anglaise, Quebec City
Author for Indies Day at La Maison Anglaise, Quebec City; Left to right: Guy Dubois of La Maison Anglaise, Greg Kelm, Neil Bissoondath, Louisa Blair, Rae Mary Taylor and Peter Kirby.
Arielle Queen - Book I - Quebec City Book Launch
Greg Kelm charming the crowd at the Arielle Queen Launch Authors for Indies Day in Quebec City.
New Books - Spring 2015 releases!