John Olson reviews "Jump the Devil" in Tillalala Chronicles
Richard Rathwell writes "in a style of exquisite simplicity, somewhat reminiscent of Richard Brautigan's droll constructions in Revenge of the Lawn, or Sherwood Anderson's Winesburg, Ohio."
Read the full review here.
Geoffrey Alexander Parsons 1985-2012
Geoff was part of a poet's group that met bi-weekly to read at the Argo Bookshop in Montreal. His poems appear in Show Thieves 2010, An Anthology of Contemporary Montreal Poetry. GAP, as some called him, has several unpublished works and a nearly completed manuscript. - Bob Knight

Excerpt from Hate Poem...
Did I really write
that trite Please
tell me, are my
thoughts my own?
Do I feel?
OR was I taught?
AM I A Product
Or a Producer?
Cool? A loser?
I am a drunk
and A boozer
A habitual Drug user
A Addict to
Addiction,
Addicted to conflict
To contradiction
Unable to tell truth
from fiction
A social affliction
OR A self-deployed invention.
My Own Voice
OR Someone's diction,
the sum of
consumption.
Hang out on
the outskirts
of the truth
if there is such
A thing.
Looking At it
where does it
start where does
it end if that's
HOW it works
it makes my
brain hurt
unable to sort
So I'll finish
short
-- Geoffrey Alexander Parsons

We lament to inform our readers and the public that Geoffrey Alexander Parsons, author of "Unwanted Hopeless Romantic Morons" has passed away.
Radical, passionate, a gifted writer and a defiant truthfulness, Geoffrey personified 8th House and will be missed deeply by all of us here.
Geoffrey Alexander Parsons 1981-2012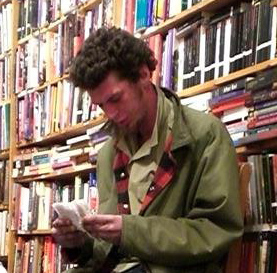 Ottawa Launch of Richard Rathwell's "Jump the Devil" at Books on Beechwood, Sunday, June 3, 15:00
BOOKS ON BEECHWOOD
15:00. Sunday, June 3, 2012
35 Beechwood Ave
OTTAWA


Richard Rathwell will be launching his latest work "Jump the Devil" at The Only Café in Toronto, Canada on May 27th.
Join us at Toronto's inimitable "The Only Café" for the Toronto portion of Richard Rathwell's "Jump the Devil" Book Launch Tour. Richard Rathwell will be reading. More dates will be announced soon!
The Only Café, MAY 27, 2012, 5:00 P.M.

972 Danforth Ave. TORONTO
Our Spring 2012 Gala Event!!
Join us at Paragraphe Bookstore in Downtown Montreal on June 6th. Meet and join Charles Talkoff, Richard Rathwell, James Cummins and Cameron W. Reed in a discussion of their latest works:
Wednesday, June 6, 6:00 pm, 2012.
Paragraphe Bookstore
2220 McGill College Avenue (corner of Sherbrooke Street).
Montreal, Canada
'Like' us on 8th House Facebook Page and stay up to date on events.
Charles Talkoff presents "The Love Song of J. Edgar Hoover"
In the finest tradition of William S. Burroughs and Thomas Pynchon, comes a strong American author writing in the great American paranoiac's voice as every page busts forth with a wild and elusive prose that takes the reader on a wild ride where anything becomes a possibility. With The Love Song of J. Edgar Hoover, Charles Talkoff combs the deepest fathoms of a paranoiac's nightmares and brings back with him his vision and homage to the deeper, darker secrets of the human psyche in the post-9/11 world.
Richard Rathwell presents: "Jump the Devil"
With Jump the Devil, Richard Rathwell has masterfully interwoven the plots of five seemingly unrelated storylines to create one coherent narrative that spans the globe and works to blend the seemingly mundane with the profound, deftly providing readers the necessary clues to unlocking the story. Transcending borders, cultures, generations, and social mores, Jump the Devil brings to life the notion of the global village as it exists in the 21st Century.
James Cummins and Cameron W. Reed present "The Midas Touch"
Authors James Cummins and Cameron W. Reed examine the predatory nature of short selling that is still prevalent within the financial industry today. What was originally intended to serve as a natural check on abuses within the stock market has itself become another method of manipulation for those with the necessary know-how. What seems innocently enough as capitalism and greed gone naturally wild in an environment of deregulation, soon appears as deliberate political maneuvering and close control on an international scale by agents and institutions operating above the law. The authors of The Midas Touch point out that this highly profitable, preferred method of professional swindlers world-wide has much more sinister repercussions than just clearing out 401(k)s – short selling was a contributing factor to the collapse of the US housing sector in 2007 that led to the global financial crisis begun in 2008 and has been the preferred fundraising methods of terrorist outfits worldwide. The Midas Touch speaks to the nature of this ongoing financial crisis we seem to be unable to extricate ourselves from and describes the ongoing problems that surround a financial sector that seems unwilling to change its business practices.
Hypodrome Sneak Preview
May 10, 7pm: Argo Bookshop, Montreal Canada.
Jason Price Everett kicks off his Hypodrome tour with a "sneak preview" at the Argo Bookshop on May 10th in downtown Montreal.
Stay tuned to our facebook page for further details.
Darren C. Demaree's new poem "Sparrow Bone" in Pirene's Fountain.
Darren C. Demaree's "Sparrow Bone" appears in the Pirene's Fountain - A Journal of Poetry.
Get the full poem at Pirene's Fountain.
Stay tuned for Darren's upcoming book from 8th House Publishing!
8th House Publishing is proud to announce the launch of Jason Price Everett's HYPODROME
6:00 P.M. May 24th, 2012 at Casa del Popolo, Montreal, Canada;
Casa del Popolo 4873 boul. St-Laurent, Montreal, canada
Open to the Public - Join the FACEBOOK EVENT
Limited, Signed Hardcover Edition NOW AVAILABLE!!
Hypodrome by Jason Price Everett - Selected Poems
"Begin anywhere. Stop anywhere. Everything that can possibly be written now is a drop of rain upon its vast syncretic ocean... This future of our shared media Byzantium is obscenely bright."
148 pages. ISBN 978-1-926716-12-1 $18.88
Read Full Description | | News | Limited Edition (Available until June 2012)

Paul Catanu's "Heidegger's Nietzsche" reviewed in the Journal of Nietzsche Studies
"In taking up the problematic elements of Heidegger's reading, Catanu forwards a novel thesis: Heidegger's attempt to systematize Nietzsche's thought via a single idea (will to power) was well motivated but didn't go far enough, as it lacked sufficient strength to render the entire Nietzschean corpus coherent. It is thus Catanu's thesis that "Nietzsche's philosophy can be explained entirely in terms of this concept [Becoming].
Presented firmly as a piece of Nietzsche scholarship, Catanu's text addresses a large number of Nietzsche's texts and varying Nietzsche interpreters from both the analytic and the continental traditions, as well as tackles Nietzsche's relation to Aristotle, Plato, Heraclitus, Hegel, and Gadamer in some depth. The result is a remarkably rigorous and thorough text that pursues its goal with a singular focus."
- Justin Laleh © 2012, courtesy of The Journal of Nietzsche Studies, Vol 43, Spring 2012
Online access to the Journal of Nietzsche studies is available through the City University of New York here.
Spring 2012 Releases - Special Editions
Limited Edition, hardcover, signed copies available through advance reservation only.
Available until May 13. While quantities last.
"Captain's Coffee" by Charles Talkoff appears in the 3QR: The Three Quarter Review.
Read the full article here.
Keep an eye out for an announcement on the launch of his novel, 'The Love Song of J. Edgar Hoover" - coming very soon.
Charles Talkoff "Jenny Jump Boseman" in Urbanite.
Jump Boseman" appears in the URBANITE. Look for his latest novel "The Love Song of J. Edgar Hoover" in the Spring of 2012.
Read the "Jenny Jump Boseman" story here.
New Videos - "Maple Vedas" by K. Gandhar Chakravarty
K. Gandhar Chakravarty's interview on Toronto's OMNI-TV and footage of the launch are now available. Come back for more videos soon!
Maple Vedas Launch - Part I.
Gandhar's interview on OMNI-TV.
Look for these launches in early Spring 2012.
Coming Soon!
Launches to be announced shortly:
"Unfictions is a remarkable achievement and issues a profound challenge to the literary landscape of today."
- The Antigonish Review
Jesse Eckerlin reviews Jason Price Everett's Unfictions in the Antigonish Review, No. 167, Autumn 2011.
Read the full review here.