READING & SIGNING | MEET THE AUTHOR
Jonathan R. Cohen author of "In Nietzsche's Footsteps"
December 13, 18:30
Hosted by DDG Booksellers
Farmington Public Library
117 Academy St, Farmington, ME
"LOCK 7" by Dean Serravalle now available...
Available for pre-order December 2018
"In Nietzsche's Footsteps" by Jonathan R. Cohen now available!
Announcing "In Nietzsche's Footsteps" by Jonathan R. Cohen
8th House Publishing is proud to announce the upcoming release of In Nietzsche's Footsteps - a thrilling, vicarious journey through Nietzsche's favorite haunts and an earnest discussion and pragmatic reflection on elements in his philosophy - in stores November 5, 2018 and available for pre-order today.

Download the Book Information Sheet.

IN STORES November 5, 2018. Order today and save 25%
PRODUCT INFORMATION: IN NIETZSCHE'S FOOTSTEPS by Jonathan R. Cohen
Dimensions: 5. 5 x 8 | Format: Paperback | Page Count: 248 | Price: $ 24.99 | ISBN 978-1-926716-48-0 | RELEASE Nov. 5, 2018
In Nietzsche's Footsteps is a fascinating, vicarious journey through Nietzsche's favorite haunts: Nice, France; Turin, Italy; and Sils Maria, Switzerland. Within the author's personal reflection lies a pragmatic rumination on the many aspects of Nietzsche's philosophy that arise throughout the voyage. What does it mean to remain an individual while nurturing the bonds that make life worth living, chiefly those we have with family? Along the way, we explore this quandary as well as the foundational elements of Nietzsche's philosophy, considering the ways in which our own culture may or may not have followed in his ever-reverberating footsteps.
In a book that will appeal to academics and enthusiasts alike, Nietzsche's complex philosophical ideas are accessibly framed as they arise in the day-to-day, so that we may tackle the question of what it is to lead a meaningful life, both as individuals and alongside those we love.
ABOUT THE AUTHOR
JONATHAN R. COHEN is a professor of philosophy at the University of Maine Farmington. His first book was Science, Culture, and Free Spirits: A Study of Nietzsche's Human, All-Too-Human (Humanity Books, 2010), and his next project concerns Nietzsche's philosophy of music. With their four kids currently scattered up and down the East Coast, together he and his wife maintain a stretch of the Appalachian Trail.
CONTACT DETAILS:
For more information on IN NIETZSCHE's FOOTSTEPS, please visit http://www.8thHousePublishing.com or contact us at 1877-787-1370 or This email address is being protected from spambots. You need JavaScript enabled to view it..
MARKETING :
The author is available for media interviews and readings/discussions, and will be presenting his work at a number of venues in Canada and the U.S. Please contact the publisher for more information.
ORDERING INFO:
In NIETZSCHE's FOOTSTEPS will be available as of November 5, 2018 through distributors and major book retailers everywhere. Discounted pre-ordering is also available.
Stay tuned to these new 8th House releases coming soon!
Craig Wells author of The Blasphemous Bible interviewed tonight...
Craig Wells, author of The Blasphemous Bible is interviewed tonight on Your Athiest Pastor. You can listen to it live tonight, June 19, 2018 between 9-10PM EST on their podcast. Tune in here.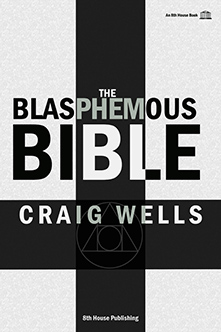 THE BLASPHEMOUS BIBLE by Craig Wells
"The entire King James bible written irreverently and satirically."
Rewritten in their entirety, these blasphemous new and old testaments are an attempt at a reversal of morals--a dialectical approach to the truth in which the opposite is mirrored against the established with the goal of producing a new transcendent truth uniting the two contradictory views.
496 pages | 6 x 9 | ISBN 978-1-926716-49-7 | $29.99 | Info Sheet:; pdf, jpg | Preview the Book

Last chance to get your free shipping Advance Reserve Copy of the Blaphemous Bible. Sale ends Friday. Reserve your copies today.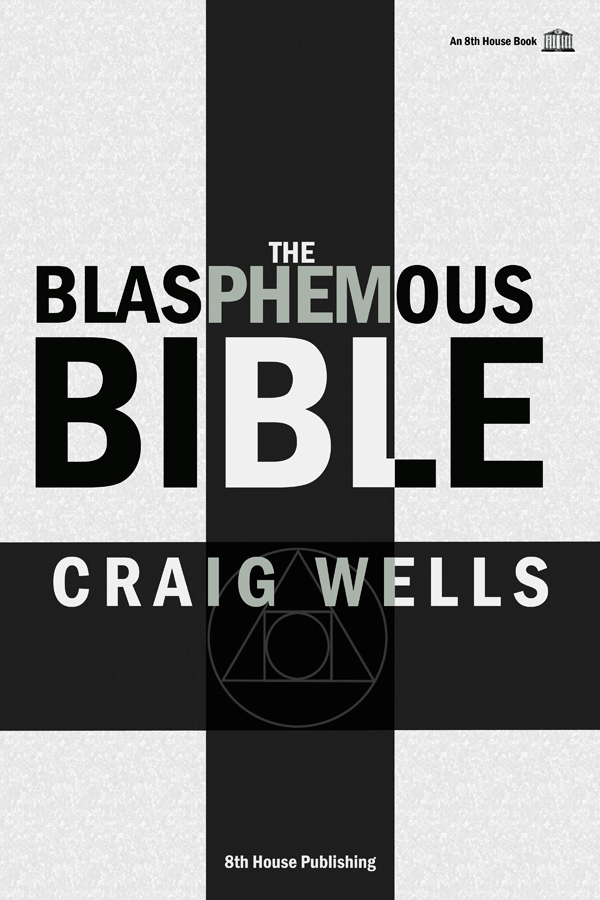 8th House Publishing is proud to announce the upcoming release of Jonathan R. Cohen's "In Nietzsche's Footsteps".
Nick Murray interviews asks poets to wax on their favorite poems in honor of National Poetry Month.
"In celebration of that I contacted several influential literary figures in the area and had them recommend their favourite poems and/or poems that have inspired them or affected them in a way so as to make those poems memorable and worthy of sharing."
8th House Publishing's Rolli (Charles Anderson) was interviewed for his choice. Read it here.